Before each appointment I go on, I give my sellers a homework packet that will prepare them for the selling process. In this packet I have included a checklist for staging a home to sell. Instead of keeping this checklist for my appointments, I wanted to make it available to everyone!

Below is the actual checklist I give my clients when they list their house with me. Follow the room-by-room tips for a quick way to improve any home!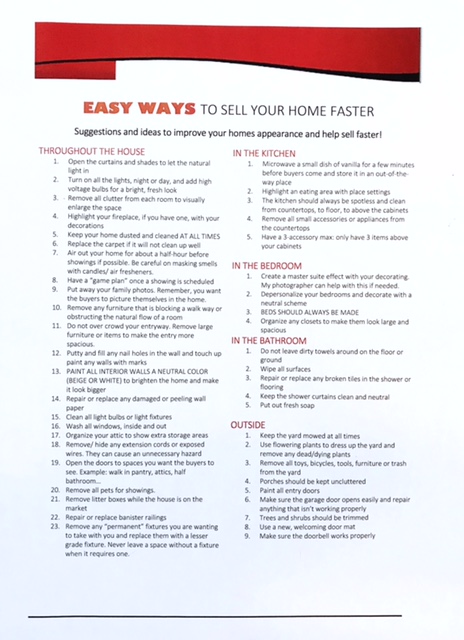 Throughout the House:
This section is all about improving the appearance without having to actually do any major work to the home! Making your home brighter, cleaner and decluttered is the KEY to helping your home sell faster. The most time consuming, but most effective, tip in this section is choosing a neutral wall color for the interior walls. If you need help choosing a color, I have a blog post on my approved neutral wall colors that will always be a win!

In the Kitchen:
Simple, clean and useful is how I would summarize this section! Make sure if you have items out in your kitchen that they are "kitchen appropriate", and can be used in everyday situations. You do not need 5 picture frames, a plant and 3 jars of candy out on the Countertops everyday, so those items would need to be stored away while showing. Same goes for decorating the upper cabinets; limit to 3 items TOTAL! Decluttering the kitchen is the best way to make the space look open and spacious.

In the Bedrooms:
Keep the bedrooms clean and neutral when selling your home! If you need help with staging a master suite, or neutralizing your child's room, my stager will assist in any decorating needed to get your home sold!

In the Bathroom:
Clean and clean! We want to make sure the Bathroom is the cleanest room in the house, for obvious reasons. Make sure this space is always tidy and clean.

Outside:
Your curb appeal is the very first impression your future buyer will have of your home! Fresh manicured lawns show less work for the new buyers, and decluttered porches will show them all the space they will need for their items. Designating an entertainment space is great for first impressions!

If you would like a printed copy of this checklist, along with our homework packet for sellers, please email me with your name and address so I can send one over to you!

Regards,
Linda Kabo